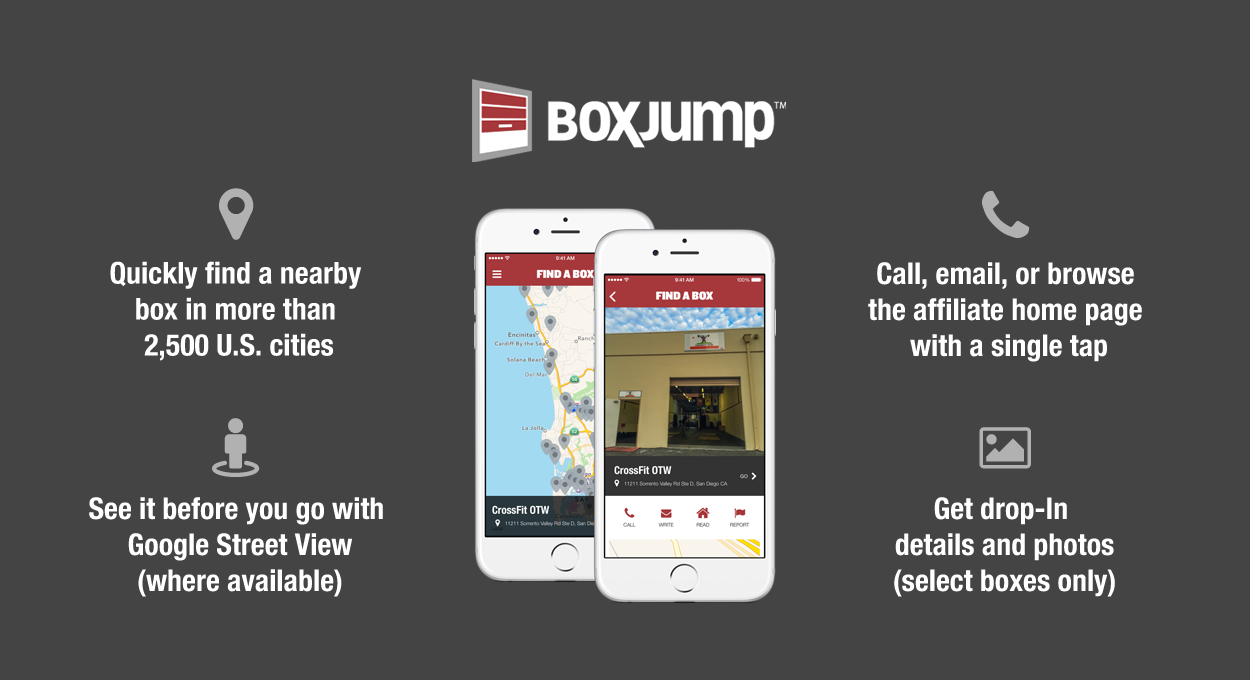 It's been quite a while since our last post, but it's great to be back!
January was an exciting month for us with the release of version 3.0 of the BoxJump app for iOS following 7 months of enhancements to version 2.0.1, and we wanted to take a second to highlight those changes as the Open gets underway today.
---
Home Screen and Affiliate Map
By far, the biggest additions for 3.0 are the all-new home screen and box map, complete with a new slogan – "Drop in Like a Boss" – inspired by Mark's blog post of the same name from last April. The map includes boxes in over 2,500 US cities and our team is working hard every day to push that number even higher.  We also hope to expand to other geographies later this year.
When you open BoxJump 3.0 for the first time, you'll be asked to turn on Location Services so that the app can find boxes nearby, and after a brief setup period you'll see the names of the three nearest boxes and the approximate driving time to each. Note that the driving time does include traffic and will fluctuate, so the driving times and box order (by distance, so no traffic impact) may not line up!
From the home screen, our box map is just a tap away – it will show you all boxes in the area and give you incredibly easy access to some great stuff for each location:
See it with Google Street View (where available)
Browse the location's web page in-app
Email or call box staff with a single tap
Get directions using Google or Apple Maps
For select locations, you can get an even better feel by reading drop-in details and browsing photos submitted by box staff. We're looking to expand this feature in the near future, so keep an eye out if none of your usual locations have it quite yet.
In addition to the drop-in details and photos, we've already gotten quite a bit of feedback and are planning to implement several of the more common suggestions in versions 3.1 and 3.2:
List View – See a longer list of nearby locations by distance
Search – Type in a location or box name and fly to that location automatically
Favorites – Keep a list of your favorite boxes for easy access when re-visiting the same city
What Else?
But we're getting a little bit ahead of ourselves – there's still plenty more to love in 3.0:
Redesigned Travel WOD

Brand new look and feel
Select a Random WOD based on the space, time, and equipment available
Still programmed daily with love by the staff at CrossFit OTW in San Diego, CA

Updated main menu look and feel
Various bug fixes and small improvements

Timer now beeps at the end of every round in all programs
We hope you enjoy using BoxJump 3.0 as much as we enjoyed building it, and for those of you participating in the 2015 Open, best of luck – being out of town is no longer an excuse!
Download the app here, and keep an eye out for those new additions in version 3.1.