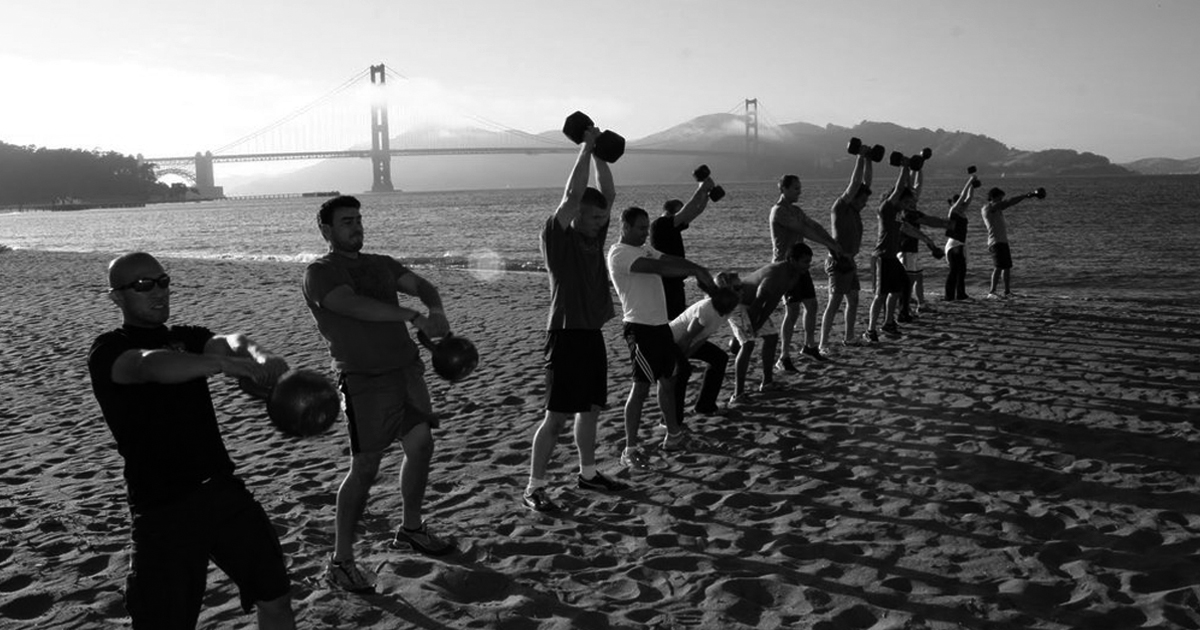 Fitness is a big part of my life, but I'm not Rich Froning – I don't spend my days at a box crushing WODs and eating almond butter from a tub. I'm a CPA with a job in Corporate Finance, which means I sit in a cushy Aero chair looking at spreadsheets instead. I try to hit a WOD at lunch to break up all that excitement, then I settle back into my Aero for the rest of the afternoon.
And I travel. Between our offices in other cities, vacations, and the odd conference, I take 30-40 trips a year. Most are just for a day or two, but if you're an Athlete spending time on the road, you'll recognize this familiar choice:
Hit the hotel bar (or order room service) and forget your fitness routine altogether
Brave the streets on foot, dodging traffic to get a few miles under your belt
Attempt a "travel WOD," in your room or the (likely sub-par) hotel fitness center
Tackle the logistical and various other issues and drop-in at a local box
I almost always choose to visit an area affiliate if I can make it work. From NYC to Paris to Cape Town, Vegas, Cancun, and lots of places in between, I've gotten in some great WODs, met some amazing people, and even learned a thing or two.

I highly recommend it, and after five years, here are my tips for getting it right:
Just do it – If you have nerves (don't speak the language, not sure you can cut it at a famous affiliate, etc.) don't let them stop you. You'll be glad you went.
A little prep goes a long way – Some incredibly modest effort (verifying drop-ins are OK, getting directions) will minimize the chances of getting lost or worse.
Take full advantage of this unique opportunity – Be humble, get a fresh set of eyes on your movements, and plug into the community.
Keep your priorities straight – Sometimes a weekend of wine and cheese in Paris with your wife is what you need to do. Pick up a t-shirt instead.
Let's recap a few of the highlights (and lowlights) that led to this list of revelations.
---
Just do it.
A lot of things can get in the way of your WOD on the road. You have more control over some than others, and your mindset is one of the biggest. If you go in thinking you're going to find a way, more often than not you will. Your destination has a landmark affiliate? It's that much more important to take advantage.
San Francisco CrossFit | San Francisco, CA (2010-2014)
What a beautiful city, and a truly special gym.
SFCF was one of the very first boxes, and it's still one of the best, period. I've been there four times – the first three when they inhabited a parking lot behind a sporting goods store (yes, it was outside), and most recently their fancy new digs.
The coaching roster here is like the New York Yankees – stars of the functional fitness internets and strong teachers from top to bottom. Last year I saw owner and Mobility WOD creator Kelly Starrett, CF Endurance founder Brian MacKenzie, Gymnastics WOD guru Carl Paoli, and Diane Fu (FuBarbell) all onsite at once.
As if that wasn't enough, Games winner Graham Holmberg and Games star Shana Alverson hit the lunch WOD I dropped in for. HSPU progressions with them officially made this visit a highlight of my fitness career.
But back to the tips – famous locations can feel intimidating, but they host drop-ins constantly and are great resources for travelers, even beginning Athletes. Plan ahead to take advantage of whatever they're famous for.
For SFCF, I suggest making a "Movement & Mobility Consultation" appointment on their website. Of course they have a ton of standard WODs, plus specialized classes such as Gymnastics with Carl, Olympic lifting with Diane, Endurance with Nate Helming, and my recent favorite – Masters with Elena Hudan.
Bottom line, I recommend that everyone find a way to visit these locations, regardless of your ability level. If you're in SF, you need to experience this gem in the Presidio, just beyond the shadow of the Golden Gate Bridge.
---
A little prep goes a long way.
Whether it's calling to sort out the details or preparing yourself for new and unfamiliar conditions, plan ahead to make things smooth and easy.
CrossFit Impetus | Playa del Carmen, Mexico (2013)
I was on spring break with my family, but it was the middle of the 2013 Open – no way I was going to miss a week and lose my (very, very low) spot in the rankings. So we hopped a cab to the center of Playa del Carmen with some friends. Everyone else was going to shop while I hit the Open WOD, and we'd meet up afterward.
I ended up getting there early – very early. No one was around, and I was worried. It was Friday night and I was wandering around town in gym clothes, the only person in sight without a margarita in hand. But thankfully I wasn't the only one who needed to get the Open WOD in, and others finally began arriving a little later.
The workout? Clean-and-jerks and toes-to-bar. Twelve minutes that felt like forever. It was Mexico-hot in there, and I had been drinking like an American on spring break at an all-inclusive resort. Let's just say I hit the wall and was mentally and physically beaten by the time I met my family and friends for dinner.
Fortunately everyone at Impetus was extremely friendly and encouraging. Coach Tefy counted my reps, and she was awesome. I love her. No really, if I were single…
Oh wait, what did I learn? Plan ahead and make sure to arrange things with the gym staff. Dani, the owner of CF Impetus, was very accommodating (and is a hell of an athlete to boot), but it would've really sucked if I had shown up and they were closed, couldn't take a drop-in, etc.
Kaizen CrossFit | Las Vegas, NV (2012)
My experience in Mexico wasn't the first time I had tackled a workout in challenging conditions. I visit Las Vegas a lot, usually for fun, and I never break away from the fun for a WOD. But my visit on this particular occasion was for work, so I planned ahead and dropped in at Kaizen CrossFit west of the strip.
I give myself serious bonus points for doing a legit WOD within the city limits of Las Vegas, but in hindsight it might not have been my best idea. It was hot out, and dry – like really dry – and we ran outside in the blazing sun. I was not exactly hydrating the night before, so as you can imagine, it was another rough experience.
If you intend to workout in a desert (or any unfamiliar climate), prepare yourself. Is there altitude, heat, snow, etc.? Gear up, hydrate, and be smart the night before.
---
Take full advantage of this unique opportunity.
Dropping in on the road is an amazing opportunity to improve your skills and meet new people.
CrossFit NYC: The Black Box | New York, NY (2009)
Working in finance means you may find yourself in NYC, and I'm there ten times a year.
Back in 2009, I was a new Athlete, but my ego and pecs had swelled after losing 25 pounds over the first few months. Things were different then – there was maybe one box in Manhattan, and if you could deadlift 225 for reps or hit Fran in 5 minutes, you were pretty legit. Or at least you thought you were. And I thought I was.
So I decided to drop in for a WOD at CrossFit NYC, the largest box in the world. I met some great folks right away and marveled at their facility on the 3rd floor on 26th St. The WOD was Barbara, a solid body weight workout, and I was ready to crush it.
Until Coach Court (Wing) took exception to my pushups, at which point I took exception to him. He refused to put my time on the board due to my form, and I was hot. Unfortunately it took me a while to realize two things:
I was getting unbiased feedback from a professional with a fresh set of eyes, who actually took the time to observe my movement – that's golden.
My pushups really did suck. Court, if you ever see this, I thank you for your coaching. You were right.
To this day I feel badly about that incident. Be humble when visiting another gym, and take constructive criticism for the fantastic opportunity it is.
Reebok CrossFit Back Bay | Boston, MA (2013)
Getting better isn't the only way to take full advantage of the drop-in experience – remember that our community extends well beyond the walls of your own box.
I was heading up to Boston last spring to catch a Red Sox game with clients (tough work, I know), but the trip was nearly canceled after the Boston Marathon bombing tragedy. Both my hotel and this gym are within blocks of the scene, police tape was fresh, and the city was still in shock. Fortunately I made the trip anyway, and I was able to participate in CF Back Bay's tribute/fundraiser WOD benefiting the bombing victims.
It was their first day open after the attack, and after the warmup we had a moment of silence. I didn't know any of the victims, but people there did. The WOD was brutally long, meant to make you suffer as you thought about those who were killed or wounded. It was one of the most moving experiences I've ever been a part of.
So in addition to working on your form, don't forget to plug into the box and local communities if you have the chance. You can meet some amazing people and share some memorable experiences, and that's really what it's all about.
---
Keep your priorities straight.
While dropping in is almost always a great experience for me, sometimes you need to skip it in favor of the hotel gym, a walk around town, or nothing at all.
Reebok CrossFit Louvre | Paris, France (2012)
This box, just up the Ave de l'Opera from Paris's world-famous museum, was one of the first Reebok affiliates I had seen. The retail aspect combined with the gym was pretty interesting and I expect we may see more of that in the future.
My WOD – 1 muscle-up. What?
Actually, I was visiting the city with my wife, so I just stopped in to grab a t-shirt. But I saw the rings and there you go. Everyone was speaking French (duh), so I'm not really sure how a real WOD would have gone anyway.
---
Wrapping Up
I've dropped in on a dozen other boxes – including meeting Jason Khalipa at his gym, one in Knoxville TN, Boca Raton FL, Invictus in San Diego and so on – and there are really just tons of amazing coaches and athletes out there. They all have something to add to your fitness experience on the road, so plan ahead, stay humble, and take advantage of these great resources.
In closing, I'll recount one last stop on my tour – a visit to the Games in 2012.
Are you an Athlete? You need to go to the Games. It's a spectacle of super-human performance and a collection of the fittest spectators you'll ever see in a stadium. Picture a rural Wal-Mart on a weekend, and this would be the complete opposite.
If it's not enough to kick back and watch some of the best athletes in the world, you can also take part in the various seminars and WODs hosted each day. I watched K-Starr lead hundreds of people through an M-WOD, then got a one-on-one lesson from elite strongman and coach Rob Orlando. He showed me how to shoulder a 150-lb. med ball. And I did it. Once. Once was more than enough.